DAY TANKS
Day Tanks are an above ground emergency source of fuel for stand-by power generators (gen-sets) that are sized to automatically maintain 12 to 24 hours of fuel immediately next to the gen-set usually drawn from a larger fuel farm or tank located elsewhere nearby.   Such Day Tank systems typically include a full day fuel storage cell (sized to fit the gen-set 12 – 24 hour fuel consumption requirements at full load), pump, motor and control unit.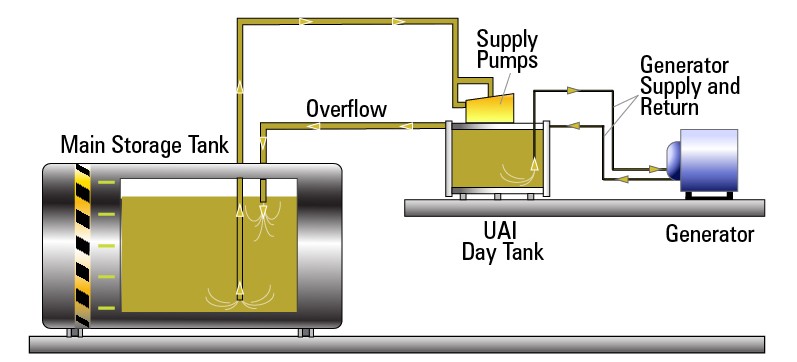 UAI program of Day Tanks offers a range of solutions that will match most standard applications, sizes, fuel capacities and run-requirements within the industry as well as exceed industry performance and safety requirements.
TYPES:
Secondary Containment Automatic Day Tanks
Single or dual pump systems
FEATURES:
UL142 and ULC S601 listed
Weather-proof (IP rated) control panels
Heavy duty pumps sized in accordance to application requirements.
Fuel tank capacity range from 50 GAL through 500 GAL
Removable inspection panels and covers located around controls
Heavy gauge steel construction
World-class electrostatic powder coated finish
Modular 'system solutions' available
A variety of options are available
For complete details please call UAI to speak with one of our qualified 'solutioneers'!
Codes & Standards
United Alloy has the engineering expertise to know and meet special regional and local codes.